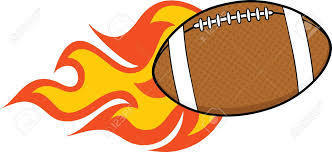 Flag Football League/Cheerleading Squad
Peggy Petersen
Thursday, May 02, 2019
There will be a 2019-2020 K thru 2nd grade Flag Football League and **Cheerleading Squad (Please note info below) . Please sign and return signup and waiver on or before Tuesday May 14th, 2019 .
The tentitive schedule is as follows:
Practice schedule will be determined at a later date by the coaches. Saturday Game days 10am. August 29th Game 6:30pm, pictures will be that night please be ½ hour early to begin pictures and start game on time.
Practice: TBD Game : Aug 24th (Sat Morning)
Practice: TBD Game August 29th (THURS. NIGHT/PICTURES)
Practice TBD Game Sept. 7th (Sat Morning)
Practice: TBD Game Sept.14th (Sat Morning)
Practice: TBD Game Sept 21st (Sat Morning)
We are trying to split the practices/games 1st half in Viborg 2nd half in Hurley. Will notify once location is approved.
*If your child will be playing football you will need to provide a mouth guard before they start practice, it is required to wear for practice and games.
**We would like to continue the cheerleading squad, we need volunteers/Cheerleading Coaches to head up this program for it to continue. Practices times will be determined by the Cheerleading coaches .
Any questions please call/text Al Flyger @ 661-9991 or Robert Kolthoff @413-0391.
We are excited for another season, thank you for supporting this league!
Please fill out the following and return back to school (registration and waiver) by May 14th, 2019
Flag Football/Cheerleading Registration Forms