A small transformation is taking shape around the Viborg-Hurley Elementary Playground. Prior to classes beginning this fall, the old asphalt surface and basketball hoops were removed and new concrete was poured to provide a safer place for students to play. Shortly after the basketball hoops were removed, the Jason and Leslie Sherman Family decided to help organize the purchasing of new basketball hoops for the playground. It was through the hard work and dedication to the Viborg-Hurley School District that the $3,800 basketball hoops project was made a reality by the following businesses/individuals:
The Viborg-Hurley PTO and the Viborg-Hurley Athletic Boosters each received a Viborg Community Foundation grant of $300.
Leslie Sherman wrote a grant requesting funding from Sanford Health and received $2,500.
Flyger Concrete donated the time, concrete, and other materials for anchoring the hoops.
The Viborg-Hurley Athletic Boosters hosted free will donation meals at football games to pay the remaining $700 for the project.
The Sherman Family ordered, assembled, and anchored the basketball hoops into place.
The Viborg-Hurley School District would like to extend their profound appreciation for the following businesses/individuals who dedicated their time and/or financial resources to provide basketball hoops for our students:
Jason, Leslie, Brodee, Gradee & Kobee Sherman
Flyger Concrete
Viborg-Hurley Booster Club
Viborg-Hurley PTO
Sanford Health
Viborg Community Foundation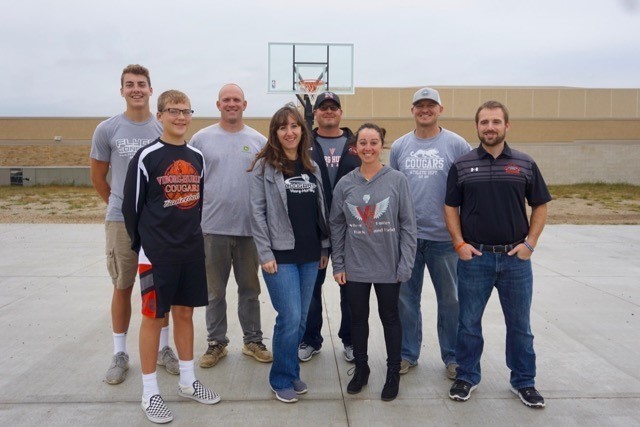 Back Row (L to R): Gradee Sherman, Al Flyger (Flyger Concrete), Chris Goettertz (Flyger Concrete), Jason Sherman (V-H Athletic Boosters)
Front Row (L to R): Kobee Sherman, Melissa Whiddon (V-H PTO), Brandy Skonhovd (V-H PTO), Brett Mellem (V-H Superintendent)