Cougar Friday tomorrow from 8:00-11:00 am. Students with missing or incomplete assignments are expected to attend.

Picture retakes, along with the pictures for those students that missed the first date, are scheduled for Thursday, Oct. 6th. Pictures will start in the Hurley building at 8:30 am and Holly will head to Viborg when she is finished in Hurley. Contact the schools if you need a picture form. H Photography Retake Info if wanting to have your student's pictures redone: Free Retake • Glasses Glare • Blurry/Out of Focus • Lighting • Significant Hair Issues Paid Retake • Facial Expressions • Minor Hair Issues • Outfit/Accessories If you wish to take a retake, please return your photos to H Photography by bringing them back to school on retake day. What do I need to bring to retake day? • Original school photos • Payment (If doing paid retake)


Cougar athletic activities for the week of Sept. 26-Sept. 30: Monday- 7th, 8th, C, JV and varsity VB at Howard starting at 4:00pm; JH FB v. Chester in Hurley at 4:00pm; JV FB v. SF Lutheran in Hurley at 5:15pm; Tuesday- 7th-8th VB in Hurley v. Parker at 4:00pm; Wednesday- XC at the Parker Invite at 2:00pm; Thursday- 8th, 7th, C, JV and varsity VB in Viborg v. Baltic; Friday- FB in Viborg v. Howard at 7:00pm. This will be Senior Night for FB and XC - Seniors and their parents will be announced at 6:45 pm. Go Cougars!

We apologize but we are experiencing network difficulties with the livestream. We will try to get it going as soon as we can.

"Scheels Friday Night Lights" this week as part of the halftime festivities. Contest will be the same as at our game with Canistota. One fan from V-H and one from Chester will be chosen to see who can throw more footballs into the net in the given time. Winner will receive a $100 Scheels gift card. If you are interested in participating sign up at this link:
https://bit.ly/3wIjFea


For tonight's VB game the VH student section will be on the N end of the gym. Please spread the word. Thanks! Livestream will be available for free on the NFHS Network.

Homecoming Dance at the Daneville!

Cougar athletic activities for the week of Monday, Sept. 19-Sunday Sept. 25: Monday- JH FB at Alcester with the game starting at 3:45; Tuesday- JH - Varsity VB v. Menno in Viborg with the 8th grade match starting at 4:00pm; Wednesday- Cornbelt CC meet at Freeman starting at 1:00pm; Thursday- JH-Varsity VB at Centerville starting at 4:00pm; Friday- varsity FB v. Chester starting at 7:00pm; Saturday- "C" team VB at Vermillion Tournament; Sunday- MS SB TBA. See the calendar for more details. Go Cougars!

VH fan seating for the FB game tonight in Platte is on the N end of the bleachers on the W side of the field.

Next week is Homecoming week and the student dress up days are as follows: Monday - Jersey/Hat day Tuesday - Bikers vs. Surfers Wednesday - Anything but a backpack day (no wheeled objects) Thursday - Class color Day: 9th Blue 10th Pink 11th Red 12th Black Friday - COUGARS SPIRIT DAY

The varsity VB team will be participating in the B-E Tournament in Emery on Saturday, Sept. 17th. V-H will take on Menno at 10:00am and Howard at 11:00am. Results of those two contests will determine the schedule after that. Championship games are set for 2:00pm. Go Cougars!


Changes to the scheduled JH/JV FB games at Alcester on Monday, Sept. 19: there will NOT be a JV game and the JH game will now start at 3:45pm. Please spread the word.


Junior Class is "serving" up some food at the volleyball game tonight against Gayville-Volin. Come hungry!!!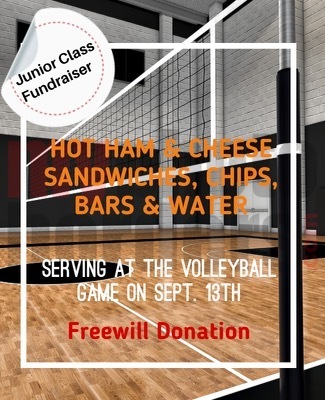 A very busy week of activities once again for the week of Sept. 12-18: Monday- home CC meet at Swan Lake Christian Camp starting at 3:00pm; Tuesday- JH-Varsity VB starting at 4:00pm in Viborg; Wednesday- CC at the Flyer Invite in Freeman starting at 1:00pm; Thursday- JH-Varsity VB v. B-E at Emery starting at 4:00pm; Friday- FB v. Platte-Geddes in Platte starting at 7:00pm; Saturday- varsity VB tournament at Emery starting at 8:00am; Sunday MS SB TBA. Go Cougars

Reminder to all Cougar fans- the east side of the HS gym is now the home seating side and the west side will have the opposing fans, team benches and scorer's table. A second reminder- free livestream for all of the home volleyball matches on the NFHS Network. The first home VB match will be Tuesday, Sept. 13th v. G-V.